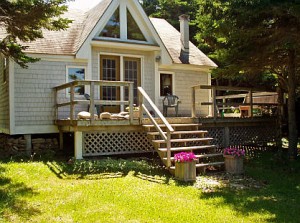 The Cliff cottage is a modern one bedroom cottage nestled in a clearing of spruce trees, thirty feet from the edge of a cliff which drops 50′ straight down to the rocks below. It is complete with a queen bed, full four piece bath, full kitchen, living room, dining nook, deck on two sides, gas BBQ, telephone and satellite TV. This setting provides complete privacy and solitude.There is a separate 8′ X 10′ deck on the edge of the cliff for viewing the Gulf in its many moods, from crashing waves to calm, golden, sunsets.
Please note: This is a one bedroom unit, suitable for a single or couple only. There are no additional sleeping arrangements.
Dimensions: 24′ X 30′ 720 sq. ft. Constructed in 1997.
Rates: $250/night, $1600/wk, plus 15% HST. Multi-week rates available. Three night minimum. Off season by reservation. There is a 50% non-refundable deposit payable upon confirmation of your reservation. .($190/1218US) ($179/1150 Euro)
Cancellation policy: 12 weeks. We will retain the 50% deposit.
Cottage Protocol
All cottages are full housekeeping units. We do not service the cottages during your occupancy. We provide linens and towels and will exchange them at your request. Free laundry facilities are located on the property. Everything is provided for multi- night stays. You only need to provide your food and your favourite books. The first bottle of wine is with our compliments. Sorry, no pets.
The Cliff cottage is one of three deluxe cottages situated on the cliff overlooking the Gulf. The cottages are 100′ apart, separated by a stand of dense spruce trees for complete privacy and seclusion. They are designed for the type of guest who wants a quiet setting or, perhaps, a romantic getaway (for the newlyweds, the young, and the anniversary set who are still young at heart). Artisans, writers, and musicians have found the cliff to be an ideal setting for both inspiration and downtime.
Wireless internet service provided.